Mission
The objectives of the ECSSS shall be to foster collaboration and co-operation amongst the National Societies of Soil Science in Europe and amongst European soil scientists in all branches of the soil sciences and their applications, and to give support to the above in the pursuit of their activities.
Eurosoil 2020
24-28 August 2020
CONNECTING PEOPLE AND SOIL
The Soil Science Society of Switzerland is pleased to welcome you at the next Eurosoil.
The call to organize sessions and workshops for Eurosoil 2020 is now opened.
Please submit your workshop proposal before 1 March 2019.
See all details on Eurosoil 2020 website.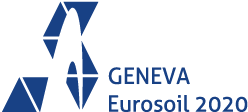 International Decade of Soils
Click to learn more about it.
Contact us and send us your expectations about Eurosoil 2020. We will be happy to discuss it with you.